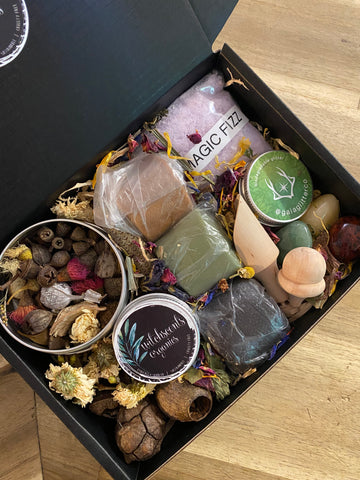 Description
Introducing our NEW nature play kits!
These kits will have your kids in an endless adventure…
Learning and testing their sensory abilities and familiarising themselves with the beautiful environment we are so grateful to live in.
This kit includes:
3x different coloured pieces of clay
Variety mix of botanicals, acorns and nuts
1x bag magic fizz (just add water!)
1x tin of biodegradable glitter
large gem stones 
1x tin of small gem stones 
One of our missions at Witchscents Organics is to reduce the amount of waste we produce in the environment, and so in this kit, we have ensured we have used re-usable materials, biodegradable materials, recycled old plastic we receive in larger packages to keep ingredients safe and long-lasting. 


Drop the device and let your children explore in this kit and discover what nature is all about
🌻💫🍀🌞🦋🐝🌿🌎