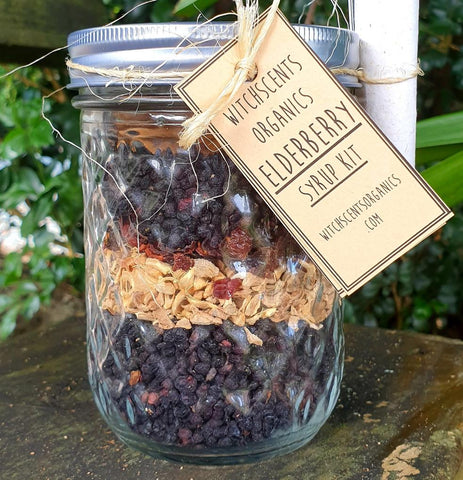 Organic Elderberry Syrup Kits
Description
Elderberry syrup is an amazing immune booster and fantastic for warding off colds and flu.
High in vitamin C as well as antioxidants and a bunch of other beneficial vitamins, with anti inflammatory properties its definitely something you want to keep on hand for fighting off those free radicals.
Now you can make your own!
Super easy to follow instructions with all the botanicals you'll need as well as a pretty jar to store your syrup in.
Simply follow the instructions and add raw honey!
Contains,
Organic Elderberries, Organic Cinnamon, Organic Ginger, Organic Rosehip Shells, Cloves.
500ml quilted glass preserving jar.
Recommended dosage 
1 TBS per day for maintenance
1 - 3 TBS per day for colds and flu symptoms 
For children under 6 years 1 - 3 TSP per day