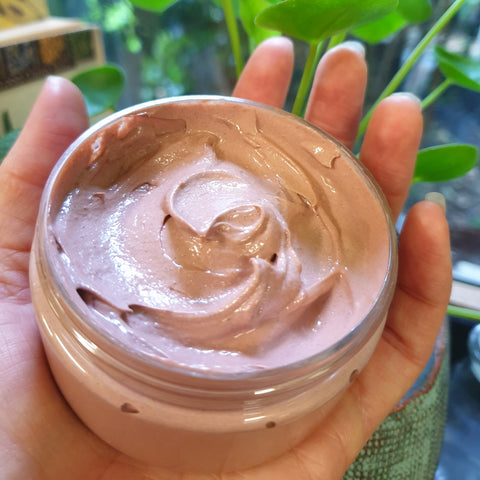 Australian Pink Clay Facial Scrub
Description
Our Pink Clay Facial Scrub with Pink Grapefruit essential oil works to removes dead skin cells and polish the skin while removing impurities, leaving your skin so clean and fresh and totally renewed.
This one is great for toning the skin whilst also being great for sensitive and acne prone skin types.  Australian Pink Clay is also known for shrinking pores and reducing redness.
Our infusion of organic hemp seed oil and witch hazel hydrates the skin whilst assisting with reducing blemishes and acne.
Can be used as a mask as well.
Use once or twice a week after cleansing with Witchscents Organics Facial Cleanser.
Keep your scrub in a cool dry area and avoid getting water into your scrub, this will prolong the shelf life of your goody pot.
Contains
Castor Oil, Kaolin Clay, Castile Soap (Organic Olive Oil, Organic Coconut Oil, Potassium Hydroxide, Glycerin , Sodium Chloride, Citric Acid) Organic Hemp Seed Oil Infused With Organic Witch Hazel, Australian Pink Clay, Essential Oils of Pink Grapefruit, Vitamin E.
Net Weight 145g