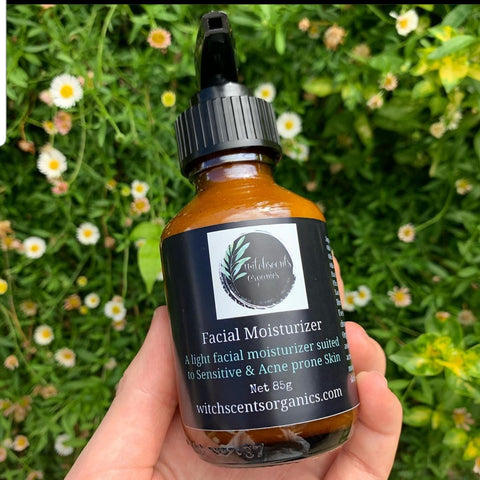 Facial Moisturizer for Acne Prone Skin
Description
Our Facial Moisturizer for Acne Prone skin is specifically designed to help fight breakouts whilst lightly moisturizing the skin.
Light and creamy in texture with Aloe Vera Gel and Avocado oil to remain light and free of heavy oils.
Essential oils such as Lemon, Frankincense and Patchouli assist in neutralizing bacteria and help fight fine lines and wrinkles.
Use morning and night after cleansing with Witchscents Organics Facial Cleanser. 
Contains
Aqua, Aloe Vera Gel, Organic Jojoba Oil, Organic  Avocado Oil, Natural Olive Emulsifying Wax, Essential Oils if Lemon, Frankincense and Patchouli, Vitamin E, Geogard Ultra Organic Preservative,  Xanthum Gum.