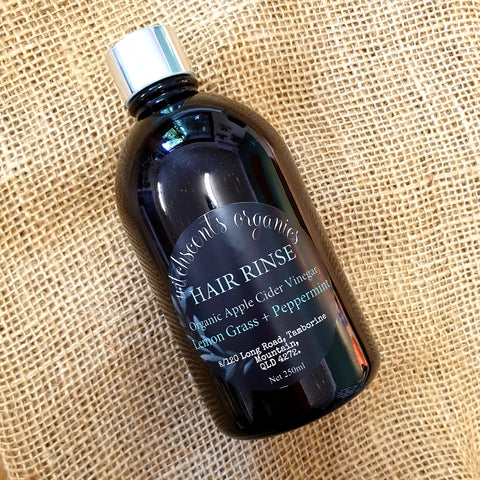 Hair Rinse Lemon grass + Peppermint
Description
Apple Cider Vinegar is naturally high in acetic acid and has a PH level which is close to that of the human hair.
Our rinse can not only help reduce build up from commercial shampoos but also add shine and assist with scalp conditions due to its antifungal and antibacterial properties. 
We further infuse our Organic Apple Cider Vinegar  with organic botanicals which can assist in dry scalp conditions and hair growth as well as strengthen the hair follicle giving you healthier shinier hair.
This is a concentrate so will last a long time when diluted with water. We recommend 1-2 tbs of rinse per cup of warm water into a jug or spray bottle.
Scented with essential oils of Lemon grass and Peppermint.
Contains
Organic Apple Cider Vinegar, Organic Lemon grass, Organic Rosemary,  Organic Calendula Flower, Organic Lavender Buds, Organic Hawthorn Leaf and Flower, Essential oils of Lemon grass and Peppermint.